Smile—Life is good!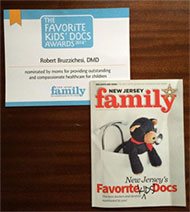 For more than 15 years, Dr. Robert J. Bruzzichesi, Dr. Leonid Epshteyn and Dr. Elizabeth Clanaman have provided truly exceptional orthodontic care throughout the central New Jersey area.
From your initial phone call to your last retainer check, we will stop at nothing to make you and your family feel comfortable and at ease with the whole process of your orthodontic treatment. When you leave, we hope it will be with a smile — not only because your teeth are straight, but also because you've experienced great customer service and personalized care that's second to none.
Some of the services we offer include:
You'll find that our team members are warm and friendly, and can assist you with everything from checking your insurance benefits to changing the colors on your braces, and much more.
For your convenience, our office has three New Jersey locations, in Basking Ridge, Whitehouse Station, and Morristown. Give us a call or schedule your complimentary initial consultation online now!